October was Horror Film Fun Month!
I participated in the 3 Day Film Challenge – Horror Edition, sponsored by Emerging Artist Productions and the San Jose Short Film Festival.
The notion of the 3 Day Film Challenge is to create a short film in the time span of three days (that's 72 whole hours!).
We, the local filmmakers who participated, worked in small teams to create epically awesome short films. We had no idea what sub-genre of horror (vampire, werewolf, mummy, clown, scary monster, etc.) we were working with until the first night of the comeptition. Team leaders chose a random sealed envelope that contained our ultimate film fate and once this information was obtained script writing ensued…then filming…editing…lack of sleep…food…special effects…more editing…death…all that good stuff associated with filmmaking!
What usually takes months and months, and many more months, to accomplish was completed in 3 days.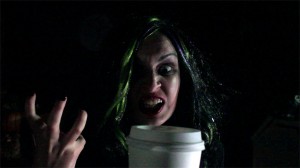 To say the least…it was INTENSE…but it was also FUN FUN FUN!
The finished films were then showcased at the San Jose Short Film Festival for the world to see! The audience voted on their favorite short, prizes were awarded, and the good times rolled on and on and on…
Witch's Reign, the film I worked on with team Sonic Death Monkey (Elizabeth Hatcher, Tim Sudano, and Mark Sudano) won 2nd place! Yea, that's how much our comedic-campy-horror flick rocked!
Unfortunatly, we do not have the film up on You Tube as we are contemplating cleaning it up a bit and submitting it to other film festivals! That's right…Witch's Reign could be coming to a theatre near you! 😉
If you'd like to learn more simply click here to be directed to the official Facebook page for Witch's Reign.
-MRC